This page is dedicated to the new owners of Raynyday Morgans.
They are all approved homes with suitably loving slaves,
who are some of the nicest people we have met.
We love to keep in touch with our youngsters' progress,
and are so grateful to those owners who send glowing reports…
___________________________________________________________________
CHANCEY'S DARTH VADER
Raynyday Grand Finale x Starless
F 2006
This lovely and typey young gelding is an Old Hand
on the trails, but is just starting his dressage training.
In the brief video clip of smart tv box below you can watch one
of his first training sessions. The rider here is Debbie Hill.
Debbie has also ridden Darth's sire "Luke
" and his Dam "Lissie", so it has truly been a Family Affair.
This footage is obviously unedited.
| | |
| --- | --- |
| | 2010 WATCHING CONSCRUCTION OF NEW ROOF |
___________________________________________________________________
RAYNYDAY
FAIRYTALE FANCY
Lyonhil Quasar x Raynyday Capricciosa
F  2002
~ SOLD ~
This lovely filly was  sold to a woman in MS at 8 mos old,
where she lived a happy life until 2010.
At that time her owner called us and asked
if we could take her back.
She had lost her job and was concerned
that she could no longer keep her.
So, we welcomed her back home in July.
She is offered tp a good home only,
and it would be fabulous if she and Athena
(listed below) could find a home together.
They have been pasture friends since 2002.
As far as we know, Fancy has been ridden,
but until we know differently,
she is also considered "green-broke".
SOLD!
Fancy has been placed in a lovely lifetime home where
she will be loved, groomed and ridden by
three teen-aged girls.


BETTER YET

she will be going with her lifelong BFF
Alve's Athena

!

Both mares have turned out to be
gentle riding horses, and they will be lavished with
the love only a teen-aged girl can give them.
I know, as I was a girl that age once,
and loved every minute of my horse experiences.
So much that when I grew up we started
a Morgan breeding program!
| | |
| --- | --- |
| FANCY COMING TO SEE ME 0710 | ATHENA IN FRONT – FANCY BEHIND |
RAYNYDAY SPARKLE PLENTY


Robbie Sue's Ragtime X Raynyday Aurora B
F 2006
This adorable filly is the daughter of one of our
very favorite mares,

F

lounce

"

, and by one of our
favorite stallions –

Robbie Sue's Ragtime

.
Sparkle has been purchased by Gail Lewis of CT.
She will be her new dressage partner.
Gail lost her  mare partner Emma all too soon at age 18,
and we are so proud that she wants

 "Rayn"


to continue her dressage career.
Note just received from Gail ~

"Thought I'd drop a quick line to let you know
how

Rayn

is doing.
She has joined the herd and it was like she had been
part of it her whole life.
She comes right to me, even in the dark.
She is the most trusting horse I have ever dealt with.
After returning from my lesson Saturday, I thought
while I had my trailer still hooked we could begin
her loading lessons. She looked at it for about a split second,
realized there was hay in there and marched right on! I asked her to back off (we have been working on on the ground).
She kept her eye right on me and backed slowly off.
I have had seasoned haulers load with more trouble!
So I decided to push my luck and saddle her for our
ground work lesson.
Again, you would have thought she had worn a saddle
her whole life.
She walked and trotted with it on.
No issue at all, just like it wasn't there.
So I figured I would try loading her again.
This time she didn't even hesitate, she just walked right on.
She is amazing.  I really can't wait for the spring  when we
can start riding."
"Rayn

is really a little gem.
Everyone who meets her adores her, especially me."
| | |
| --- | --- |
| | COMING OUT OF BARN ON DEPARTURE DAY 9/10/09 |
| | |
| --- | --- |
| LOOKING BACK ON HER CHILDHOOD HOME AS HER OLD FRIENDS CALL TO HER | SPARKLE (NOW NAMED RAYN) ARRIVES, AND GAIL SHOWS HER THE FARM THAT WILL BE HER NEW HOME |
___________________________________________________________________
RAYNYDAY SUPERSTITION

Dam: Ragtime Abacadabra
F 2005

This handsome and affectionate colt has been sold
to Debbie Gunset of Cross River NY.
He will be her dressage horse of the future.
Debbie has other Morgans and is a great admirer of the Breed.
"We have received several wonderful notes from Debbie ~
" I just wanted to let you know that

Merlin

won  a first and second place at his first show.
It was only a schooling show (we dressage people do that) but the judge was
an R judge and she was very enthusiastic about

Merlin

and gave him a whopping 77%
(that is very high for dressage).  It was beautiful to watch and quite a few onlookers
came up to me with gushing compliments.
Next summer I plan to show him in the established dressage shows.
I know he has what it takes.  It's also nice that he is so stunning looking.
He truly was stallion material but I have no real regrets because he has a better
life as a gelding. "
And more recently ~
"I've been meaning to write you – no new updates or accomplishments –
but just rave reviews by everyone who meets

Merlin

.
First, by Anita, my dressage friend upstate and Lisa, my "R" rated
dressage judge who teaches us – these two ladies were chagrined I bought a
young Morgan when I had been talking about saving up for a dressage schoolmaster.
They both are now very impressed by his athletic movement and his excellent mind.
You should see his ground-covering, uphill canter!
I can't wait to get him out to shows this coming summer.
And of course his physical beauty impresses everyone.
He looks so classy in his Spanish Riding School cooler and his German argyle polos.
I never did take any snapshots – it's been so busy and my pictures often dissapoint me.
I'm planning on having Carien come and do another photo shoot next summer when
he has shed his winter woolies, and I anticipate there will be show photos too."
| | |
| --- | --- |
| BABY "MERLIN" WITH MOM, HOME IN OHIO | |
___________________________________________________________________
RAYNYDAY PINBALL WIZARD
Dam: Ragtime Abacadabra
F 2006
We got this note from Debbie recently ~
"

Wizard

is back with Jackie Ross and is beginning his training.
She said he is doing great. Everyone says Jackie did such a great job starting


 Merlin

as he is so trusting of his rider and takes everything in stride.
I know that is due to his genetics but even good horses can be
messed up by incorrect training."
UPDATE:
Wizard
has been purchased by a young woman for
her Dressage mount. We wish them much fun and success!
| | |
| --- | --- |
| | WITH BROTHER SUPERSTITION (FAR LEFT) AND NEW OWNERS IN NY |
___________________________________________________________________
RAYNYDAY GIBSON GIRL
Lyonhil Quasar x Sugarlane Natalia
Foaled 2004
Gigi will be the new mount for Meghan Ward,
who has outgrown her beloved pony.
We are excited about her new home,
and wish the Wards much success in the future!
Her mother, Anne has been good enough to send several notes
about Gigi's adventures at her new home,
as well as some pictures. Anne's last email:
"Gigi and I returned from our clinic in south Ohio today. She is just a gem!
Gigi is well on her way to becoming a fine saddle horse. She was participating
in the advanced horsemanship class, with horses much older and more experienced,
even though she was working on her 4th, 5th, 6th and 7th rides this week-end.
Each day she was under saddle for about 3 hrs. I'm very proud of her!
Throughout the fall I'll continue to ride her, exposing her to more and more situations
and fine tuning what she knows. She had many admirers, including some serious
inquiries about buying her. Of course, she's staying right here in Michigan.
She is growing into a lovely, kind and intelligent horse."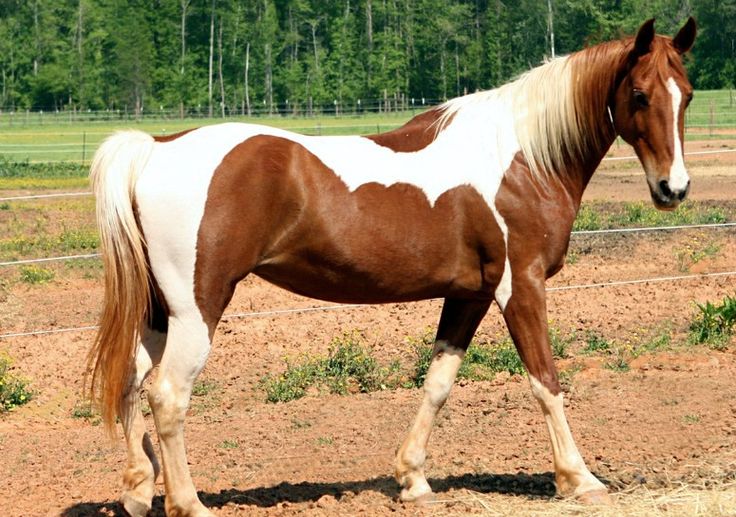 | | |
| --- | --- |
| WHO IS THIS CURIOUS TWO-LEGGED CREATURE? | GROWING INTO A FRIENDLY AND HAPPY YOUNGSTER |
| | |
| --- | --- |
| VISITING AND LEARNING AT A WORKING RANCH 2009 | LEARNING SKILLS WITH OWNER/RIDER ANNE |
___________________________________________________________________
BRIARHILL LI'L PEACH
Raynyday Grand Finale x Hopple's Little Genie
Peach's Breeder Ann

writes "Here are a couple photos of

Peach

.
I'll try to get some better quality 
ones next spring when we start riding again.
She is phenomenal – 
brave, bold and beautiful. Rick says she's his best horse, ever.
Except he says that when he rides her sister  

Lily

, too.
(There may be a common
thread, here).

We trailered Peach over to Nancy Adams' farm 3 times a week and did all
the saddle breaking ourselves under her guidance.
Peach
took longer to hook on in the round pen since she is so self
assured. But that is a trait we want. So far (after about 3 to 4
months of work) she's been across mud, streams, rivers, a pond, over
teeter totters, bridges, dragged logs from the saddle horn and break
away roped calves. She's a real forward mare. She's happy to be
first in line on a trail and walks along 'on point'. When Rick sends
her farther back in line she relaxes and lets someone else take
charge. Her walk is very fast and her jog is smooth. Not as smooth as
Lily's
yet but it's getting there. Her body is long from nose to tail
with nicely balanced conformation; long hip, long shoulder. Good
feet. She's got the equivalent of a full mane hanging on both sides
of her neck. I love riding along side her and Rick so I can turn and
watch them. She is just such an eyeful and his riding is quiet and
seemingly effortless when he's on her. Before we started training she
was hard to catch in the pasture but now when Rick goes out there she
comes running up to him to go to work. If he walks away without her
she bangs her front feet on the gate in disapproval. So we're having a
lot of fun with this mare. She's coming along nicely and we're really
proud of her.
Thank you for producing a Morgan bloodline which is, for us, the best
___________________________________________________________________
RAYNYDAY DON TO DUSK
Scandias Trademark x Raynyday Aurora B.
foaled 2004
This adorable gelding has finally found his special human, Sarah Oakley of Lexington, KY.
He is doing well at his new barn, where they no longer hang halters outside stall doors, or
put brushes and blankets within reach. He is the first Morgan they've had. Tee hee.
I learned the other day that he turned all the barn lights on in the middle of the night…
Anyway, I just received this email from Sarah :

An update. Didn't get pics though. Jimmy went on his first big boy
trail ride and did phenomenal. Ride was about two hours. He hadn't
been to this particular place and was rocking. Crossed water with only
slight hesitation and mostly led the whole way. He's become a staple
for everyone and our go to boy so to speak. He is really enjoying the
farm and as usual his personality keeps everyone in stitches.
| | |
| --- | --- |
| FLOUNCE WATCHES AS HER NEW SON GETS AQUAINTED WITH WILL 3/14/04 | |
| | |
| --- | --- |
| NEW OWNER SARAH AND JIMMY BOND | |